Q&A: Robin Gibb
'My whole life has been embarrassing, but I wouldn't change it'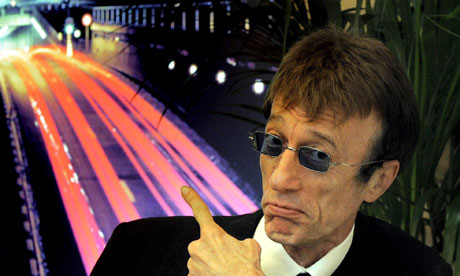 Life's too short.' Photograph: Benot Doppagne/EPA
Robin Gibb
,
Robin Gibb
, 60, was born on the Isle of Man. At the age of six he began performing with his brothers Barry Gibb and Maurice Gibb
The family emigrated to
Australia
, where the Bee Gees became regulars on TV and had a number one hit before returning to
England
in 1967. In 1977 their music for the movie
Saturday Night Fever
became the biggest-selling soundtrack of all time, with more than 40m copies sold. Among the band's many honours, the Bee Gees have eight Grammy awards and a star on the
Hollywood Walk of Fame
. Gibb lives on the
Isle of Man
with his second wife, Dwina, and is an ambassador for
the Outward Bound Trust.
What is your earliest memory?
Being stung by a bee in
Spring Valley
,
Isle of Man
, when I was a year old.
Wat is je vroegste herinnering?
Gestoken worden door een bij in spring valley Isle of Man, ik was 1 jaar oud.
What was your most embarrassing moment?
My whole life, but I wouldn't change it.
Over welk moment schaam je je het meest?
Mijn hele leven, maar ik zou het niet anders willen
What is your most treasured possession?
Three actually: a watch and hat worn by Maurice, and a pen made out of Titanic steel given to me by Dwina and RJ [their son] on my 60th.
Wat is je dierbaarste bezit?
3 dingen: een horloge en hoed van Maurice. Een pen van staal van de Titanic gekregen van Dwina en RJ op mijn 60e verjaardag.
Where would you like to live?
I'm always at 35,000ft. I don't know what "home" or "abroad" is any more.
Waar zou je willen wonen?
ik ben altijd onderweg, ken het verschil tussen thuis en onderweg niet meer.
What would your super power be?
To go back in time, but armed with penicillin and a bottle of Dettol.
Wat zou je superkracht zijn?
tijdreizen, maar wel met penicilline en ontsmettingsmiddel.
What makes you unhappy?
Being around negative people.
Wat maakt je ongelukkig?
Negatieve mensen om me heen
What is your most unappealing habit?
Eating and sleeping at odd hours.
Wat is je meest onaantrekkelijke eigenschap?
Eten en slapen op de onmogelijkste uren
What would be your fancy dress costume of choice?
I'd go as me. Everyone else would think I was from a Bee Gees tribute band.
Hoe zou je je het liefst verkleden?
ik ga als mezelf, en iedereen denkt dan ik een lid ben van een bg tribute band
What was the best kiss of your life?
Non-smokers.

Wat was de beste kus in je leven?



Die van een niet-roker





What is the worst thing anyone's said to you?
In 1967, when we were told we'd never make it.

Wat is het ergste dat ooit tegen je gezegd is?

in 1967, toen ze zeiden dat we nooit succes zouden hebben.



Is it better to give or to receive?
Recently it was made clear to me it is "giving". The success in campaigning for planning permission for a monument to the 55,000 young men in
Bomber Command
who sacrificed their lives so we can live in freedom.
Wat is beter geven of nemen?
Geven. Het succes van de campagne voor het monument voor 55.000 jonge mannen van het bomber command die hun leven opofferde zodat wij in vrede kunnen leven.
What is your guiltiest pleasure?
Rarely do I attach guilt to something pleasant.
Life's too short.

Welk plezier geeft je het meest schuldgevoel?

Zelden dat ik schuld koppel aan plezier. Het leven is te kort.



What does love feel like?
It's like trying to describe electricity or the colour of air.
It just "is".

Hoe voelt liefde?

Je kunt elektriciteit of de kleur van de lucht ook niet beschrijven .

HET is er.





What has been your biggest disappointment?
The way some of the music industry is being run now.
Music is being treated as one big karaoke machine.

Wat is je grootste teleurstelling?

De manier waarop de muziekindustrie werkt. Muziek wordt voort gezien als een grote karaoke machine.



If you could edit your past, what would you change?
Losing my brothers Andy and Maurice, and Dad.
Als je iets mocht veranderen wat zou dat zijn?
Het verlies van mijn broers Andy en Maurice en van mijn vader.
What is the closest you've come to death?
Twice within a year: a car crash in
Australia
in 1966 when the car rolled three times; and the
Hither Green train crash
on
5 November 1967
.
Wanneer was je het dichtst bij de dood?
2x in 1 jaar. Een auto-ongeluk in 1966 en treinongeluk op 5 november 1967.
What single thing would improve the quality of your life?
No more pollution.

Wat zou je levenskwaliteit verbeteren?



Geen vervuiling.





What do you consider your greatest achievement?
Having the most successful catalogue of songs in the world, alongside Lennon and McCartney.
Wat is je grootste succes?
De beste musiccatalogus van de wereld hebben naast lennon en Mccartney
What song would you like played at your funeral?
How Deep Is Your Love
, and some of
Mozart's music
.
Welke muziek zou je wilen horen op je begrafenis?
How deep is your love en Mozart.
Tell us a joke.
I prefer spontaneous wit that comes organically in conversation.

Kun je een mop vertellen?

Ik vertel ze liever spontaan in een gesprek.



Tell us a secret.
I visit English country churchyards where historical figures are buried
Vertel ons een geheim
Ik bezoek engelse begraafplaatsen waar historische personen zijn begraven