Catching Up With Barry Gibb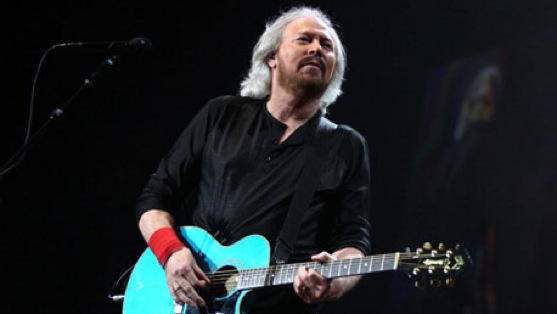 You can practically feel it in the air.
There's a huge tidal wave of a Barry Gibb Renaissance coursing through pop culture these days. And deservedly so—at 67, the founder of legendary singing-sibling trio The Bee Gees is a survivor, both figuratively—he managed to outlast the disco craze his band helped create via its 1977 Saturday Night Fever soundtrack, which sold 15 million copies but stranded him creatively for years afterward—and literally, as his brothers passed away, one by one, Andy in 1988, Maurice in 2003 and Robin in 2012.
Undaunted, he 's launched a globe-trotting Mythology the Tour Live, featuring his son Stephen on guitar and Maurice's daughter Samantha on vocals. He's also overseen a great box-set reissue Bee Gees – The Warner Bros. Years 1987-1991, featuring the underappreciated efforts "E.S.P.," "One," "High Civilization" and "One For All Concert." He announced the juggernaut on Late Night With Jimmy Fallon this January and harmonized on Everly Brothers chestnuts with the show's giddy host, with whom he'd good-naturedly appeared a month before on the recurring Saturday Night Live skit "The Barry Gibb Talk Show"—wherein a shag-wigged, leisure-suited Fallon plays the singer as a volatile egotist with a halting falsetto, opposite Justin Timberlake as his conversely mousy brother Robin. In his all-analog home studio in Miami, the Rock and Roll Hall of Famer is also piecing together a new solo album, which he hopes to pepper with top-flight cameos. The project properly coalesced with "The End of the Rainbow," an elegy he composed for Robin. Add it all up and it spells comeback.
Paste: So you're phoning from your digs in Miami. But your mom is actually there?
Barry Gibb: Yeah! She lives nearby and she visits, like, every week or two. So she's here today. And it's absolutely beautiful here today.
Paste: And you're an American citizen now, right?
Gibb: Oh yeah. I think it's what you call a jewel situation, where you still hold on to your English passport. But my domicile is in America.
Paste: You seem to have a really good sense of humor.
Gibb: Oh, I hope so. I think you sort of have to. I don't feel you can really survive, or last as a pop artist—or even as an actor—if you don't see the funny side of everything. I started out with Mad magazine and Cracked magazine growing up in Australia—that's about all I could get my hands on, plus the Saturday Evening Post. I grew up laughing at the irony of life, and I still am, I guess. I hope!
Paste: Have you ever thought about doing standup comedy?
Gibb: Well, I wouldn't call it that. But I did a seminar at Middle Tennessee University, and it was fantastic. There were 500 people, and I just sat and played the guitar and talked about songs for two hours. And it was great fun, great fun. Because the people that like our music also have a sense of humor. And there have been soldiers who proposed to their wives over our songs, and all these examples of how our songs have affected different people's lives. But I loved doing that performance. So I guess I'm more sit-down than standup. I'll need a chair. Or a couch.
Paste: When and how did you hear that Saturday Night Live was spoofing you with "The Barry Gibb Talk Show"?
Gibb: I wish I had a talk show! It'd be great! But we'll work on that. But I first noticed them doing it a few years back, and I didn't know what to think when I saw it for the first time. I thought "Well, hang on! I don't behave like that!" And Robin was the opposite of Justin's portrayal, the absolute opposite. So I eventually thought "Yeah, that's okay. That's funny." My own daughter thought it was hysterical, and I was like "Hey—support me here!" But then it started becoming something I wanted to see every time it was on. You've gotta laugh at yourself, man. You've gotta laugh at yourself.
Paste: Who contacted who about you finally appearing on SNL?
Gibb: It came from them, obviously, because Mr. Michaels doesn't have anyone on if he doesn't want them on. And at first, I had no high concept as to what I was going to do. When they said "Will you do it?" I said "Of course I'll do it! But what am I doing?" And they said "Unh-unh—will you do it?" And the next thing that came was a request for my measurements, so I sort of knew where it was going. But it was wonderful. I love Justin, and Jimmy is probably my favorite comedian in the world. He can apply himself to anything.
Paste: And you got to see your immortal 1980s hairstyle, up close again.
Gibb: It was like talking to yourself, 35 years ago. Jimmy promised to give me the wig afterwards, but he didn't. But the hairstyle isn't as immortal as I'd like it to be. And what's happening now is, my ankles are going. Just lately, my left ankle has actually told me off, like "I'm not gonna support you anymore!" So I've got my ankle strapped up, I'm ready to do shows, but I get this image of myself hopping around onstage.
Paste: Again, you could get a chair. Or a couch.
Gibb: No! That's a sign of defeat!
Paste: When you look back, you have to marvel at the fact that the Bee Gees were one of the few outfits to successfully jump genres.
Gibb: I don't know how. And I can't explain it. But there was something that stayed. I mean, if you listen to some of those songs today, they still ring out somehow. Even the Fever songs. You put on a Fever song in a restaurant today? People start dancing.
Paste: It's sad that you guys had to contend with that whole stupid "Disco Sucks!" backlash.
Gibb: Yeah, but it put food on the table, it was creative magic, and we were having a ball. And you know, you could look at both sides of that and think that there's a pile of that that we ought to be unhappy about. But we were raising kids and there were so many things going on in our lives, that it was okay, we didn't really mind. And we'd been up and down before. I remember Telly Savalas saying when Kojak was really big "You know, this bubble's gotta burst." And he was right. Every bubble has got to burst. And Fever had its burst, as well. And we had to follow that up by writing for other people—we couldn't get on the radio at that point, really.
Paste: But "Main Course" was your definitive statement. And you could hear Saturday Night Fever coming on it, pretty clearly.
Gibb: I love Main Course. And you know my wife wrote every lyric down on that album, and I lost the booklet with all the lyrics written down. But "Jive Talking" was on Main Course, and Children of the World had "You Should Be Dancing" on it. So these songs were taken from earlier albums and then placed on the Fever album. So that's how it came about—it was all accidental. Even [RSO label impresario] Robert Stigwood didn't know what it was gonna do. He was chasing some kind of vision, and we just decided to go along with it.
Paste: The Warner Years box set has some really great songs on it that folks might have forgotten, like "One" and "You Win Again."
Gibb: Yeah. And "Tokyo Nights" is on there, too. My favorite is still "Wedding Song." I know people who have used that song for their weddings. And once again, it's really nice to see how people were influenced by even the songs that weren't hits, you know?
Paste: Has your old duets partner Barbra Streisand requested VIP passes for your tour yet?
Gibb: I'm not so sure that she'll go. She's been very…what's the word? Introverted. She doesn't like leaving her house, and I don't blame her. If you saw the house, you wouldn't want to leave it, either. It's a wonderful environment, and she loves it. But we did two albums together, we still speak to each other now and again, but I can't tell you for sure whether she'll come to a show. She's that way inclined.
Paste: But just think of the roster of guest stars you could assemble for your next album…
Gibb: I hope so. Because I'm gonna ask 'em! I'm a bluegrass freak, and I want Ricky Skaggs on that album. I love him, and I love that music, because it's immigrant music. It's Bill Monroe, it's the Stanley brothers. And I also really love Lorde and Bruno Mars. So is there a Renaissance? It's hard to figure from where I'm sitting; it's hard to be objective. But I can say this—I'm gonna get as many guests as I can and have a great time!